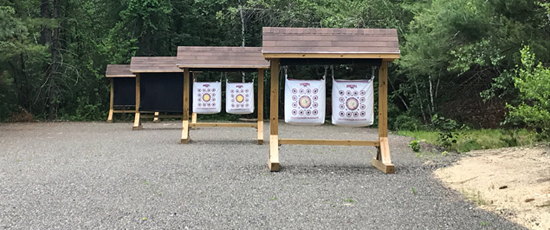 20 to 50 yard Outdoor Archery Range
Our Outdoor Archery Range consists of 4 separate shooting stations which contain two targets per station at 20, 30, 40, and 50 yards. It is open to members 7 days a week from 8:30 AM to Dusk. A separate section is reserved for crossbow or airbow enthusiasts, with a bench rest for the convenience of the shooter. Please note that Crossbow/Airbow shooters may furnish their own target backstop or may use the provided increased velocity crossbow target.
15 Station 3D Archery Course (Wooded)We have established a 15 station 3D archery course for hunting enthusiasts which entails 3D targets erected in woodland settings to simulate actual hunting conditions. Various colored stakes are set at varied distances, from 10 to 50 yards, to provide opportunities for the shooter to hone their skills at judging distance and improve their shoot skills at varied distances at animal like targets.Crossbows and airbows are not allowed on the 3D range.Please note Broad Head Hunting Arrows or Broad Head Practice Arrows are Not Allowed on any of the Archery Ranges at any time.