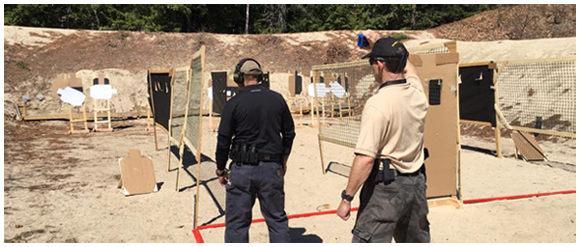 Action Shooting is a sport designed to develop and enhance your ability to act safely and effectively in defensive shooting situations. It is the only activity in the club that will allow you to draw from holster and engage targets while moving.  Our club is affilliated with the USPSA organization and we host both USPSA and Steel Challenge style matches.
USPSA
Action Shooting events are open to all skill levels, although we do recommend attending one of the practices before participating in a match if possible. Both club members and non-members may participate in our organized practices and matches.  Junior members are allowed to shoot but that will depend on the individual, if he/she can adhere to the range commands and possesses the skills to safely handle a firearm in this capacity. If the junior member has the skill set, as long as a parent or guardian remains present at the shoot, they will be allowed to participate.
Action Shooting is held on Tuesday evenings during the Spring / Summer / Fall. Matches, usually scheduled for selected Sundays starting at 10AM, are being suspended for 2019 as we investigate alternative range solutions. The Tuesday nights are the practice nights where you can hone your skills and learn some new ones. The Sunday matches are a little friendly competition shoot to see how you measure up against your peers of the same ability.  Starting with 2017 we began using USPSA rules and scoring for Sunday matches.
Fees to participate in Action Shooting are as follows (covers range supplies and upkeep):
Tuesday practices are $5.
The Sunday match event fee is $15 for members, and $20 for non-members.
Tuesday practices will run April through the end of September. For April and September they will be from 5-7 PM, May through August they will run 6-8 PM.
The matches will begin at 10 AM.
In order to use the Action Shooting ranges outside of events, members are required to obtain AS Qualification, which entails a live training class, a short written exam and then a simple live fire test.
The certification procedure is now online here.
If you are interested in this type of shooting and have any questions about the events/activity or would like to get certified to use the AS pits outside of events please contact one of the people below and we will be happy to answer any questions you may have.
Contacts:
Please consider joining our Action Shooting email list.  We will use this list to communicate about AS-specific events.  Members and non-members may subscribe.