We are Now in Membership Renewal Season!
Membership Renewals are typically accepted and processed from a Membership Secretary designated date in October through December 31st of each year. The Membership Secretary notifies the Membership of Renewal Season opening via our website and eBlast System.
Renewal Options and Process Information
There are three (3) OPTIONS for renewing Memberships during the active membership renewal period. You can submit your renewal via our:
Online Application – Expected to be available on 11/4/2020
Paper Application Download – Available below now
In Person at the Clubhouse Office – During the hours designated below
Online Application
This is our preferred method!
Renewal application processing has historically been a time-consuming and labor intensive task. Online processing eases the burden on our resources. It also eases the burden on you as it automatically populates some fields of the form, looks up your Service Hours and automatically applies earned discounts, automatically calculates your correct dues amount, and allows you to submit your dues electronically by PayPal, Credit Card, Debit Card, or by USPS Mail. We would sincerely appreciate your use of this method if possible!
The online application is accessed from the "Members Area" section of the website menu.
You must LOG IN to gain access to the Members Area and all information and capabilities within this area. If you haven't created a password for your website account or you don't remember your password, please note the following instructions: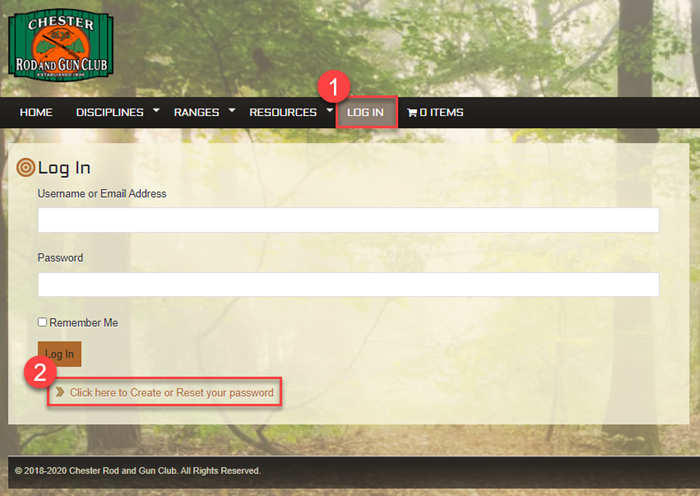 Click the LOG IN item on the Main Menu Bar.
When the LOG IN box displays, select the "Click here to Create or Reset your password" link at the bottom of the Log In box.
The Lost Password box will display.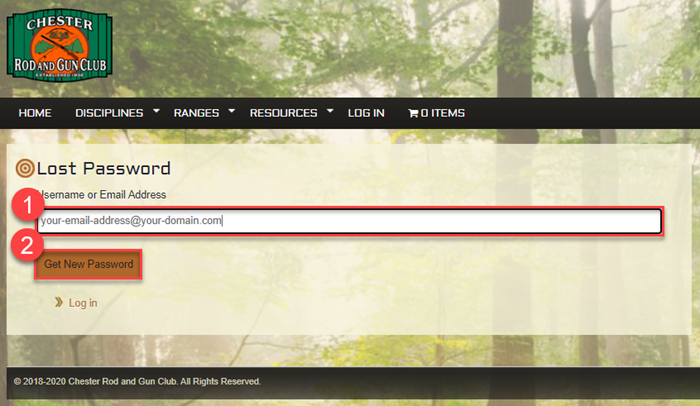 Enter the email address you have on file with CRGC
Click the Get New Password button.
A Password Reset link will be emailed to you.
Please be aware that some, but not all, email accounts may experience a delay in delivery of the password reset link. This is due to the security protocols employed by some email servers for this type of email. We encourage you to attempt a password reset during a period of time when the mail servers are likely to be less busy and are able to process your reset link more quickly.
Click on the link in the email you receive and you will be taken to the password reset screen.
Once you've reset your Password, you will be able to Log In and gain access the Members Area.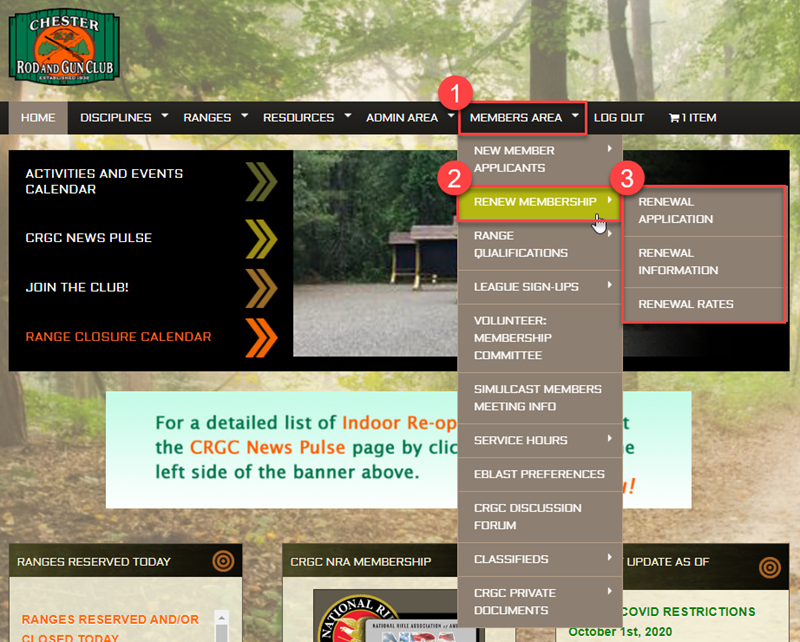 The process for completing the online application is as follows:
Some fields of the online renewal application will be automatically filled for you based on your login. Complete all required fields as noted by a red asterisk beside the field name.
Sign your application by selecting either the pencil icon and drawing your name or the keyboard and typing your name.
In the Payment Info section, which is automatically populated based on the type of Membership selected, select your payment method.
Click the Submit button.

If you selected PayPal or Credit Card as your payment method, you will be taken the CRGC PayPal Site. On this screen, you can login and pay using your PayPal account OR you can click the "Pay with Debit or Credit Card" link below the login area to use one of these options.
If you selected Check via US Postal Service as your payment method, please be sure to mail or drop your check off at the Clubhouse office as renewals are not final until your dues have been received.
Paper Application Download
Download the Renewal Application Form

Start by downloading the Membership Renewal Application Form in PDF format by clicking this icon. The document will open in a new window for you to download. You may fill the document out and sign it interactively on your computer using a recent version of Adobe Acrobat Reader, and then save it. As an alternative, you may print, complete and sign it by hand. In order to use the eSignature capability of this document, you must download and complete it in Acrobat Reader.
Submit the Renewal Application form

Submission by USPS Mail

Complete/print the Membership Renewal Application Form.
Once completed, mail it to the address listed at the top of the application form.
Please remember to include your personal or company check for the dues.
For your Renewal dues amount see, Renewal Membership Types and Pricing

Submission by E-Mail

Complete the Membership Renewal Application Form interactively using a recent version of Adobe Acrobat Reader on your computer.
Send the completed, signed and saved PDF form via email to membership-secretary@chesterrodandgunclub.com.
Please remember to mail or bring your personal or company check for the dues to the Clubhouse Office.
For your Renewal dues amount see, Renewal Membership Types and Pricing
In Person at the Clubhouse Office
Membership Renewal personnel will be available at the following dates and times for those who would like to complete a paper application and make their dues payment in person.
November 12 – 6pm to 8pm
November 16 – 5pm to 7pm
December 4 – 6pm to 8pm
December 19 – 9am to 12pm
December 21 – 5pm to 7pm