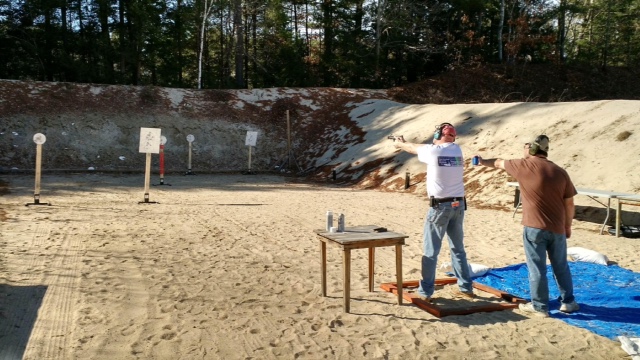 Chester Rod and Gun Club is now offering Steel Challenge events which are open to all members and the general public.
The Steel Challenge is a speed shooting competition governed by the Steel Challenge Shooting Association (SCSA) that consists of eight standardized stages with steel targets, ranging in size from 10″ (25 cm) round plates to 18×24″ (45×60 cm) rectangular plates. Competitors are scored solely by the time it takes them to complete each stage, and the match winner is the competitor with the lowest overall time.
There are 5 stages with 5 steel targets on each. Shooters get five strings on each stage. Each competitor shoots each stage five times, with their slowest run dropped. The counting times are totaled for their stage score, and the five stage scores are added together to establish the competitor's match score.
For each string, one hit per target is required, with an unlimited number of rounds. The last target to be shot is known as the "stop plate", which stops the timer. All primary target hits made after the stop plate has been struck, will be scored with a 3 second penalty each. The maximum time permitted for a run is 30 seconds and a competitor will be stopped and asked to reload if they reach the 30 second limit.
Since we usually run 5 stages, you will need at least 125 rounds (150-200 is better), and up to 5 magazines if possible. Please arrive at the match with your firearm unloaded and in a case.
The dates for the matches can be found on the event Calendar.  The 2019 dates are the following:
March 17th
April 14th
May 19th
June 9th
July 14th
September 8th
October 13th
November 10th
Match registration opens at 8:30AM and the match will begin around 9:00AM. Pre-registration is mandatory and available on Practiscore for 2 weeks prior to a match. Match fees are currently $15 for members, and $20 for non-members. At this time, participants may only sign up for one division.
Matches will include the following divisions:
Centerfire Pistol
Rimfire Pistol
Rimfire Rifle
Pistol Caliber Carbine
Please consider signing up for our Action Shooting specific (USPSA and Steel Challenge) mailing list, to receive notifications of upcoming events.  Members and non-members may subscribe.  (The same list is used for USPSA and Steel Challenge event notices.  No need to sign up twice.)